Day Something Or Other
This post chronicles neither this past Tuesday nor Wednesday but rather a strange hybrid of the two (Twudnesday?) that is hard to put a finger on.
What's easy to put a finger on (in the idiomatic sense) is that Jess is a dedicated actress, her commitment and attention to detail extending all the way to stressing her own wardrobe with a kitchen knife.
The main thing we did today is go sailing. Justin's friend Randy lives on a sailboat, and he was kind enough to take us out on into the bay to film a moment of romantic absolution between Jess and Justin. Joe was worried that he might barf, but once we were out on the water, I've never seen him smile so much behind the camera (although in this picture he looks like he's laughing at his own joke).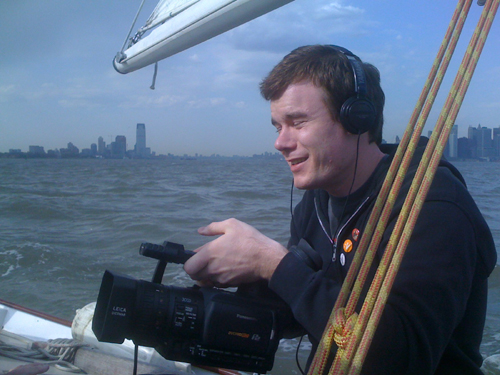 Here's Jess and Justin looking all lovey-dovey. Now
I'm
going to barf! J/K, folks.
It was idyllic. We sailed to and fro and the clouds hung half-heavy in the sky, scattering the light and a few stray raindrops as the wind blew, all calling to mind Keats'
On The Sea
or, even moreso, Tennyson's
Crossing The Bar
:
But such a tide as moving seems asleep,
Too full for sound and foam,
When that which drew from out the boundless deep
Turns again home.

Twilight and evening bell,
And after that the dark!
And may there be no sadness of farewell,
When I embark.
But enough about poetry! Twilight did fall, and indeed it was accompanied by bells, ringing from the buoys floating in the bay (into which Jess nearly steered our vessel). As the sun sank into magic hour, we returned to our moorings. We weren't quite ready to cast off our sea legs, though, and so we sat on the boat well into the evening, talking and imbibing. Randy opened a bottle of exquisite Serbian Quince Brandy, which Joe took quite a shine too...
We also ordered pizza, upon the arrival of which Jess declared this "The Best Day Ever."
But the day wasn't over yet! We'd all ignored the fact that we had another scene to shoot that evening, but as the hours ticked by, its inevitability began to press upon us: we were due to shoot in a bar at 1:30 am. So we set sail on the subway, heading back to Williamsburg; we were crossing the bridge when the train shuddered to a halt. For forty-five minutes, we sat there, waiting for who knows what. By the time we finally started moving, we were starting to feel just a little bit sleepy...
...a state that was exacerbated by half-past midnight, when we set out on the long journey to the bar. Catching a G-train at that time of night is never easy; suffice to say, it took well over an hour to get to our location. The shoot was quick and terse, and then we repeated the trip back. We reached home at four...
...and then were up again shortly thereafter to make it to the following morning's shoot at Alter, a clothing boutique in Greenpoint. Residents looking out their windows might have noted the horde of zombies straggling down the street, lugging camera bags and lighting cases; but our constitution gradually returned as we shot the scene, and by the time we were done we were all ready to do some shopping! It was like a rom-com montage. I bought some jeans and a super-svelte jacket (which Jess said I was too manly for, but I'm pretending I don't know what that means because seriously, this jacket is cool), and also some new aviators, because the one's I bought in
this post
broke in Maryland.
Then we went home, and one by one we all fell asleep.